Elevator Lab Challenge South-East Europe has been completed last night (Dec. 15) with a gala event where finalists presented their projects to a jury of experts and the audience and fought for the title of "Best Start-up in South-Eastern Europe" and a prize of EUR 10,000. The Swinto team was chosen as the winner of this fintech competition and will have the opportunity to present their work on the international Elevator Lab Demo Day in the spring of 2022, to meet the management of Raiffeisen Bank International Group and receive expert advice on business presentations and unique ways of presenting to business clients.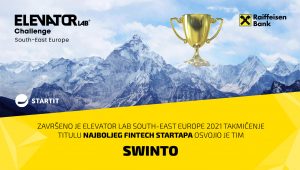 Tim Swinto, who is also the winner of the second semi-finals evening in the category Payments and Advanced Analytics Solutions, shared his impressions after winning in the finals:
"We enjoyed this experience, it gave us a wonderful opportunity to reveal our idea again and what it is we are offering. We have invested a lot of effort into making a presentation which fully represents our company."
The jury of experts, consisting of Raiffeisen banka's managers, rated the most innovative solutions in the financial technologies segment and semi-finals were held in the following categories:
The winner of the first semi-finals evening that took place on Dec. 1 was Easy Albania. Their solution was the best in the segment Innovative Banking Solutions for Retail, SME, and Corporate Clients. In the second semi-finals, Dec. 2, in the category Payments and Advanced Analytics Solutions, the best solution was offered by the Swinto team, as rated by the expert jury. The most innovative solution on the semi-finals evening on Dec 3, in the category ESG solutions, was created by TE Pema team. The teams who won in the semi-finals, as the best in their categories, won EUR 5,000 each, the possibility of developing their projects with some of the local banks, the opportunity to have their systems integrated into Raiffeisen banka and reach 2.6 million clients, as well as placement into the Elevator Lab 2021 finals.
Elevator Lab Challenge South-East Europe is a regional competition for start-ups, organized by the Raiffeisen Group, focused on supporting technology innovations that have a positive impact on the development of financial and banking systems. This year, via a live online event, the participating teams had a chance to present their fintech solutions to experts and the viewers could join the discussion and acquaint themselves with the segment of start-up solutions.
Detailed information regarding the competition, participants, jury and awards can be found at the following link: https://elevator-lab.com/challenges/regional-1/, while the entire gala event can be watched HERE.