ONLINE FACTORING FOR LEGAL ENTITIES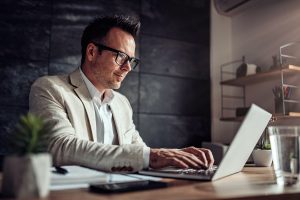 Raiffeisen banka introduced an innovative service to the local banking market for the corporate segment – an online factoring platform, Raiffeisen Online Factoring, which has recently become available to clients of Raiffeisen banka, as well as to those who will become new clients in the future.
The service of factoring is a useful instrument for managing cash flow, improving liquidity and the collection of receivables. The bank has been offering this product for a great number of years already and now it has gone a step further by creating an online platform where the client can perform all factoring business in a fast and efficient manner. The option of performing such complex banking activities is especially useful in times of the current pandemic, when it is imperative that company owners and their employees can perform all business activities in as safe an environment as possible. The online platform was created in accordance with the needs of the Serbian market and is completely adjusted to the requirements of the corporate segment in Serbia.
Apart from the collection of receivables, online factoring enables corporates also the following: the option of fast  and easy financing modality without increasing indebtedness, monitoring collection, administration of invoices bought, reduction of administrative expenses, issuing without collateral, better competitive positioning, as well as a range of additional benefits that are available immediately after a factoring contract has been concluded.
The whole factoring process is completed on the platform itself, with online communication with the bank and suppliers/buyers, with full overview of approved and available limits, financing requests, invoices sent for payment and their status, available calculations and reports, etc.
By introducing the online factoring platform Raiffeisen Online Factoring, Raiffeisen banka continues the trend of digitalizing its services while implementing the most state-of-the-art technology solutions in banking. The innovative feature of the platform was accentuated by the fact that the bank was among the first in the Raiffeisen Group to offer this service to its corporate clients. The solution was developed in cooperation with the local fintech startup "Between" (www.between.rs), a winner in the local "Elevator Lab" project of the Raiffeisen Group in 2018. This successful cooperation and innovation for the corporate segment is a confirmation of the importance of the banking sector's synergy with fintech startups.
*  *  *
Raiffeisen banka a.d. Beograd is a member of Raiffeisen Bank International, one of the leading banking groups in Central and Eastern Europe. It began its business activities in 2001, and is developing its focus in three segments: retail banking, corporate banking, treasury and investment banking. Please contact the Marketing & PR Department of Raiffeisen banka for additional information at the phone No. 011/2207-306.