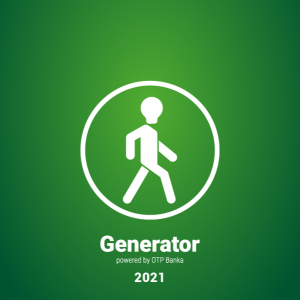 Belgrade, November 18, 2021 – One of the key strategical orientation will be marked by the "green transition" in business and by commitment to sustainable business and environmental sustainability, as confirmed by the topic of the new Generator Zero entrepreneurship contest, officially opened today.
Generator Zero is dedicated to supporting and rewarding innovative sustainable solution projects with real and measurable effect on decreasing carbon footprint – one of today s main challenges. The contest opened from November 17 for micro, small, medium and startup companies, informal start teams and entrepreneurs, which may apply through website Generator by December 20, 2021 at midnight.
The bank is looking for solutions that have a clear plan of the necessary resources and funds for its realization, and priority will be given to those whose realization is possible within six months from the moment of receiving the award.
The jury will select the finalists from the received applications and all of them will be rewarded with media promotion and promotion on the Bank's communication channels. The prize for the winner will be 2,000,000.00 dinars and support in further development and promotion. In addition, part of the prize for the winner will be project presentation in OTP Lab Innovation Hub of parent OTP Group, which is present in 11 countries in Europe, as well as in the Portfolion investment fund.
Numerous partners recognized the importance of the Generator: Mastercard, Schneider Electric, Bosch, ICT HUB, Serbia Innovates, Initiative Digital Serbia, Netokracija and BOŠ – the Belgrade Open School, as well as OTP lab innovation hub of OTP Group and the Portfolion investment fund. Project partners also award numerous prizes to the best finalists.
About Generator:
In order to strengthen the competitiveness of domestic entrepreneurship, Generator was designed and launched in 2017, as a project that brings together and supports solutions that encourage innovative entrepreneurial ventures. That year, Generator supported 40 entrepreneurial innovations through financial support, promotion and mentoring. Next year, 2018, the best student entrepreneurial innovations were awarded, and Generator 2.0 was intended for the digital transformation of small and medium enterprises. At the end of 2019, within the Generator, the bank launched the Generator of Good Deeds, which supported six social enterprises and their representatives. In the year marked by the pandemic, Generator Gamechanger was dedicated to digital projects, websites, applications and other platforms that help small and medium enterprises to overcome the challenges they faced. At the beginning of 2021, another cycle of support was organized for five individuals and small businesses under the roof of the Generator of Good Deeds, this time in an online environment.