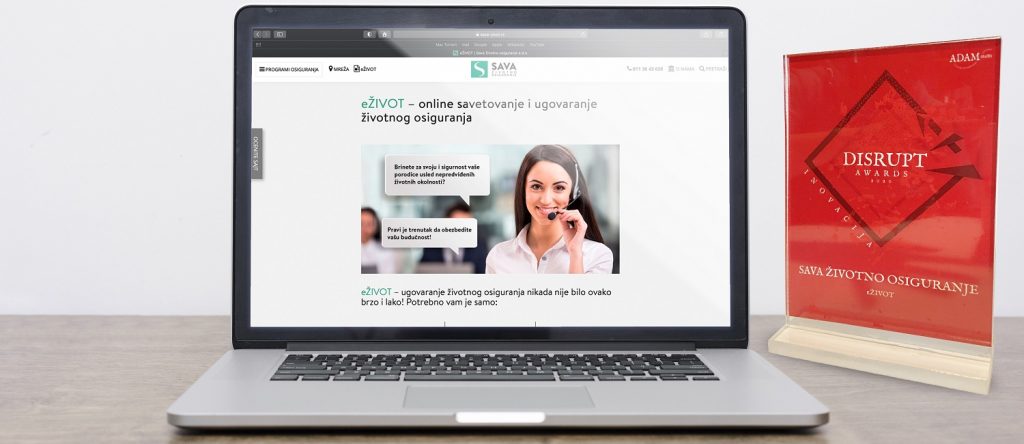 The Disrupt contest prizes were awarded online for the best projects that marked the year 2020.
Sava životno osiguranje was declared as the winner in the Financial Sector category, Innovation subcategory, for the eŽIVOT (eLIFE) project.
Sava životno osiguranje is the first insurer on the Serbian market to supplement the traditional life insurance contracting with the online life insurance contracting service with own video identification – eŽIVOT. Using this new service is very simple. After the client's conversation with the life insurance advisor, the client receives an offer by e-mail, created in accordance with his/her needs and an SMS code for secure access and advanced electronic signing of documents. In the eŽIVOT process, this is followed by video identification which is intended to verify and confirm the identity of the insured during online life insurance contracting.
The Disrupt contest gathered 60 top-quality works from companies, agencies and associations which excelled in the field of Disrupt Innovation or Disrupt Communication and, during an extremely difficult 2020, managed to succeed through their activities and contribute to social progress. The awards ceremony was organized on April 1 in an online format.
The following were awarded in the Disrupt Innovation category: Donesi for the Uvek u pravom trenutku project, Coca Cola HBC Srbija for HoReCa zajednica, Lasaffre for ePekar, Preventer for Klub književnika, Delta Motors for MINIxŠkrabac, Galenika and Chapter4 for Zdravo dvadesete, Direct Media for Direct Neuro, Sava životno osiguranje for eŽivot, Banca Intesa for It's time for sharing time, Mokrogorska škola menadžmenta for MEMBA 2.0, VIP mobile and Executive Group for VIP virtuelna prodavnica.
The following were awarded in the Disrupt Communication category: Mercator-S for the IDEA karavan project, Atlantic Grand and Luna TBWA for Hajde da imamo vremena, SuperDot for Wine trekkers, Galerija Matice srpske for Izvanredno u vanrednom, Propulsion i AstraZeneca for Pokret Kiseonik, Hemofarm for Sa nama život pobeđuje, M2Communications and NVO Astra for Paralelna stvarnost – surova realnost, Balkan Tube Space for Balkan Top Star, Banca Intesa for Čajanka četvrtkom u 17h, New Moment New Ideas and Visa for She's next, GourmAna for Druženje sa GourmAnom, Levi 9 for Interne komunikacije.
Special prizes – Disrupt Brutal were awarded to Koncern Bambi for the Plazma rituali project, Disrupt Influence was awarded to Atlantic Grand and Popular Communications for InstaGrand #SamoUživaj, while Disrupt Star was awarded to Mercator-S for IDEA karavan.
An expert jury composed of top professionals from various fields decided on the winners.
"The Disrupt contest involved 60 works of companies which in 2020 managed to recognize the chance for improvement and implement projects that were Disrupt in terms of innovation or communication. All winners absolutely deserve their titles", said Mila Zavođa, director of the ADAM studio agency, which organizes this contest.