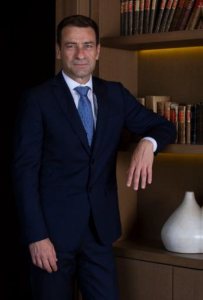 Zafeirios Lampadaridis started his career in 1994, in the construction industry. He had the opportunity to be engaged in numerous large-scale industrial construction projects in Greece, the power generation field of engineering, and working within an international environment. He joined the hospitality industry in 1999 when he started working at Hyatt Regency Thessaloniki. Since then, he has gained significant knowledge and experience in various hospitality and gaming industry assignments in Greece, Poland, Romania, and Belgrade, Serbia over the last ten years.
In 2017, Zafeirios was engaged as General Manager of Mercure Belgrade Excelsior, where he put outstanding commitment and efforts into the opening and running of the first Accor hotel in Serbia.
Since May 2021, Mr. Lampadaridis has been selected by Hyatt to operate the renowned Hyatt Regency in Belgrade.