FIC Office Manager is responsible for:
Membership & Stakeholder Communication, including drafting letters and notes to FIC membership and stakeholders; drafting and sending notes to the third parties regarding technical and administrative issues, communicating with the offices of respective members of the BoD regarding all FIC issues and activities; assising with production of Annual Report, White Book, newsletters and other publications;
Office and Event Management, including document management system for electronic and paper records; organizing internal and external meetings for FIC staff; event planning and implementation, including assisting from logistical, financial to implementation phase of the event. RSVP to events for FIC Staff and/or BoD members;
Finance Management, including monitoring of monthly budget expenditure, annual budget projections, maintaining records of membership fees and performing analysis of revenues, administering payroll and employee benefits and insurance;
Other duties of the Office Manager are to supervise duties performed by the Office Assistant and perform tasks as identified by the Executive Director, Communication Officer and Regulatory Officer.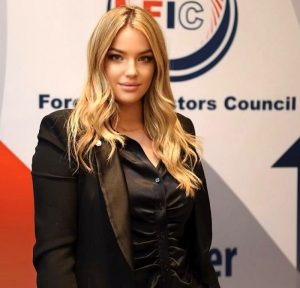 Tamara Kapor has been employed as FIC Office Manager since March 2022.     
Born in Belgrade, where she graduated from the FEFA, Belgrade, in 2020. At the same Faculty, she obtained a master's degree in Digital Transformation. Before starting her position as Office Manager, she had an Internship in FIC working on FIC flagship project WB 2018.
Besides, in 2017, Tamara gained significant experience in the HR field during her internship at E&Y.  The selection and recruitment of the job candidates, the survey on employees' satisfaction, and the training of practitioners were her primary tasks. Further, during 2016, she gained experience and knowledge in personal and corporate banking at Societe Generale Banka, emphasizing issuing bills of exchange, opening savings accounts and term deposits, working with clients, etc. Tamara is a certified ski instructor.