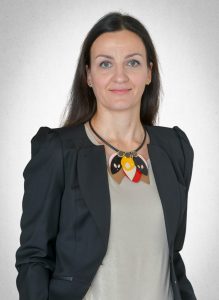 Sladjana Babic is a senior expert with 20 years of experience in oil & gas industry and financial markets.
She has joined NIS j.s.c. Novi Sad in 2010 and currently holds a position of Senior Expert for Projects of Cooperation with Government Institutions and Business Associations. Working in a large, multinational oil & gas company for almost 12 years, Sladjana has gained extensive experience in corporate communications and negotiations with wide range of stakeholders, including Government institutions.
By continuouslymonitoring macroeconomic developments and policy regulations, both in Serbia and globally, Sladjana is very familiar with global trends and economic changes that affect business environment in Serbia. Prior to joining NIS j.s.c. Novi Sad, Sladjana worked as a financial analyst at the brokerage house coordinating a number of takeover bids, and as a researcher at the Institute of Social Sciences, Centre for Economic Research, analysing relevant economic policies and their impact on business
environment.
Sladjana has background in macroeconomics and statistics and holds an M.Sc. in Quantitative
Economics from the Faculty of Economics, University of Belgrade. She has been a member of the NIS's team that actively contributes to FIC anti-illicit activities.