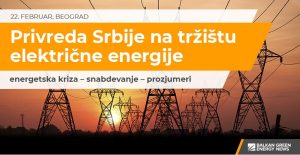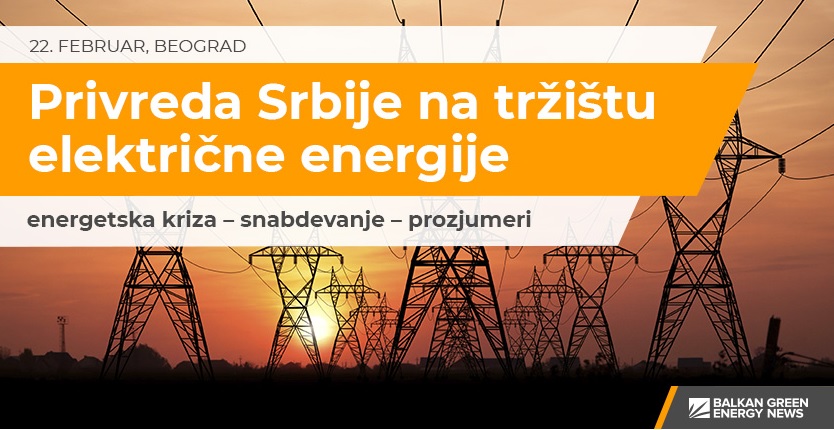 The Balkan Green Energy News portal organizes the "Serbian Companies on Changing Power market" conference which will be held on 22 February in Belgrade, Hotel Crowne Plaza.
Topics:
The event will bring together leading energy and power market experts from Serbia and abroad to discuss the prospects for the Serbian companies on the changing power market and the most pressing challenges for them in the coming years:
– energy crisis
–  electricity prices after the Government's decree expiration,
– securing affordable and reliable electricity #supply,
– corporate PPAs from renewable energy sources,
–  producing electricity from #solar for self-consumption
– decarbonization and aligning businesses with the Green Agenda and
– preparation for the Carbon Border Adjustment Mechanism CBAM.
Participants:
Leading energy experts and representatives of state and international institutions, private companies and public enterprises, electricity traders and suppliers, investors, representatives of financial institutions, energy service providers, law offices, business associations and academia.
Keynote speakers:
Artur Lorkowski, Director, Energy Community Secretariat
E. Urs Schmid, Ambassador of Switzerlan in the Republic of Serbia
dr Zorana Mihajlović, Deputy Prime Minister, Minister of Mining and Energy, Government of Serbia
The purpose of the conference is to provide a platform for exchanging information, knowledge, and ideas needed to understand better the trends and new concepts in the power market.
The conference is intended for general managers, CEOs, chief technology officers, chief strategy officers, and energy managers. Equipped with information and knowledge, companies will be able to make smart decisions in energy management, which will help improve their competitiveness, facilitate decarbonization, and importantly initiate a discussion on the Carbon Border Adjustment Mechanism.
Conference Agenda: via this link
Registration Link:  https://docs.google.com/forms/d/e/1FAIpQLSfwkhHgOWtRLNqUq2E0IyKJwv-n5dqS05JeFCljipAnr1p1Dg/viewform
Organizer's contact:
Email: bgevents@balkangreenenergynews.com
Phone: +381 62 8822322