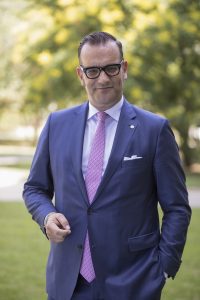 President and CEO Hemofarm
Dr Ronald Seeliger has been the Chief Executive Officer of Hemofarm – the leading pharmaceutical company in Serbia and regionwide, the major exporter of pharmaceuticals and one of the 10 biggest exporters in Serbia in general, since 2012. Hemofarm is a member of STADA Group, one of the leading European and German generic pharmaceutical producers, and Dr Seeliger is in charge of the operations of this company in the West Balkan countries. In addition to being a Foreign Investors Council member, he is also a management member of the Chamber of Commerce and Industry of Serbia, the German-Serbian Chamber of Commerce and the AmCham Serbia.
Founded in Vršac on 1 June 1960, Hemofarm is presently a leading generic pharmaceutical company in Serbia and regionwide. Hemofarm brand medicines are available in the pharmacies on three continents and in more than 30 countries around the globe. Over the course of six decades of its existence, Hemofarm has been on a continuous growth path, growing from a small plant in Vršac into a globally operating company. Its production plants are presently located in the three countries: Serbia (Vršac, Šabac and Dubovac), Bosnia and Herzegovina (Banjaluka) and Montenegro (Podgorica), and it is the market leader in each of the mentioned countries. Every year, Hemofarm pushes the boundaries by increasing the volume of production – it broke a new production record with around 6.5 billion tablets, capsules and other forms produced in its plants in 2020.
The CEO of Hemofarm graduated from the Technical University in Berlin. He attended the London School of Economics and IMD business school in Lausanne. He earned his PhD degree for the thesis 'Process-Oriented Controlling for Media Companies'. He continued his career in business as a management member of large industrial systems in Europe, Australia, and Asia. Dr Seeliger was also the Director of Controlling in Formula 1.