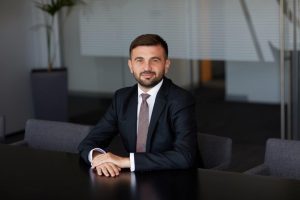 Nebojša is attorney at law, in cooperation with PwC Serbia since January 2022, managing legal services. Among other topics, his interests are strategic directions in the ESG area, climate change, E-mobility and renewables. In addition, Nebojša practiced in various areas of corporate and commercial law and has gained considerable experience in advising clients in the market through the course of commercial transactions and on corporate governance matters. He started his legal career in 2009 at Karanovic & Partners, building up his experience in the Corporate & Commercial Practice Group through advising clients across various sectors such as retail business, food business and information technology.
He regularly advises clients on all aspects of the work, including but not limited all aspects of corporate, commercial, employment, data protection, compliance, risk management. He was also involved in various M&A projects.
From July 2019 until January 2022, Nebojša was managing legal affairs in the Helleniq Energy subsidiary in Serbia as senior member of Karanovic & Partners.
He graduated at Faculty of Law the University of Belgrade in 2008.