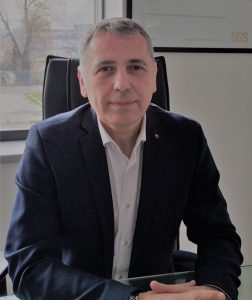 Miljan Milević was born in 1966. He graduated on Faculty of Technology Metallurgy, University of Belgrade. His professional career started in Jugoinspekt company in 1999. where he worked as an independet inspector for quantity and quality inspections crude oil and oil derivates. In 2006 he joined a company SGS Beograd that already has a reliable and professional staff, as a Senior Inspector for Oil Gas and Chemicals division, and stays on that position till 2012. Mr Milevic takes the full obligations in the managing of the sector, making contact with clients, supervision of jobs and staff review of the contracts.
In the meantime, in accordance with the development of the sector and constant needs to improve the business proces, in 2013 SGS Serbia win the contract for Fuel Integrity Program, as the first country in Europe. After implementation Fuel Integrity Program starting in February 2014, in the following year, 2015 SGS Beograd developed Fuel Quality Monitoring System which represents the most successful anti-corruption programme in the Republic of Serbia. This is the first anti-corruption programme of its kind in the fight to combat the grey economy in Europe where is Mr Milevic appointed as a Coordinator for OGC, later as a OGC Business Manager in SGS Beograd since 1st January 2015 to 2023.
During his career, he attended many international courses such as: Based Training Program-OGC Level 1 (2011), Based Training Program-OGC Level 2 (2012), Introduction to Sustanability (2012), SGS Operations Supervision SGS-Global-OI-Transportation Safey in SGS-EN-0421 Pricing startegy and pricelists (2012), Loss making contracts and sales topics, Introduction to the Global Rules (2018)…
Miljan Milević has been appointed, as Managing Director for SGS Beograd (Serbia and Montenegro) in March 2023.