FIC Office Manager is responsible for:
Membership & Stakeholder Communication, including drafting letters and notes to FIC membership and stakeholders; drafting and sending notes to the third parties regarding technical and administrative issues, communicating with the offices of respective members of the BoD regarding all FIC issues and activities; assising with production of Annual Report, White Book, newsletters and other publications;
Office and Event Management, including document management system for electronic and paper records; organizing internal and external meetings for FIC staff; event planning and implementation, including assisting from logistical, financial to implementation phase of the event. RSVP to events for FIC Staff and/or BoD members;
Finance Management, including monitoring of monthly budget expenditure, annual budget projections, maintaining records of membership fees and performing analysis of revenues, administering payroll and employee benefits and insurance;
Other duties of the Office Manager are to supervise duties performed by the Office Assistant and perform tasks as identified by the Executive Director, Communication Officer and Regulatory Officer.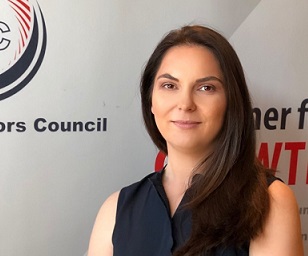 Koviljka Nikolic took over the position of FIC Office Manager from May 2015 and previously was at the position of Office Assistant from August 2012.
Born in Belgrade where she graduated from the Faculty of Political Sciences, University of Belgrade with a Bachelor's degree in Political Analysis. After graduation in 2007, Koviljka has worked as a volunteer in Belgrade municipality Vracar where she was engaged in project "ID of Vracar municipality". In 2011 she gained a Master degree in Business Performance Management at the University of Belgrade.
Before joining the FIC in August 2012, Koviljka worked on a project "Support to Strengthening Policy Coordination in the Government of the Republic of Serbia" at General Secretariat of the Government of the Republic of Serbia where as Planning Consultant/Mentor she supported the respective line ministries' staff to develop necessary skills to implement the proposed planning methodology applying "learning by doing" approach and helped ministries working groups to organize their work and develop realistic work-plans.