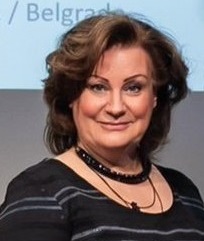 Jelena Vukić-Šuljagić is a seasoned legal professional with a double experience as an in-house lawyer and an attorney-at-law. A "legal enthusiast" at heart, she is a lecturer at professional gatherings, educator, panelist, negotiator, in-house coach, and also she is a one of the authors of the Law on deadlines for settlement of financial liabilities in commercial transactions and FIC's White Book. In fact, she was leading range of initiatives aimed at amending the FX Law, as well as for bills of exchange digitalization. Jelena is an active participant in round-table meetings on digitalization with the NBS, Cadastre, and Chamber of Commerce.
Currently, she holds a position of a Coordinator for Legal support to sale activities for non-standard placements to large and mid-size corporate clients  at OTP banka Serbia a.d. Novi Sad, with focus on:
Digitalization
Monitoring of the regulatory frame
Drafting of various legal documents in complex deals such as syndicate financing, restructuring, and financial derivatives
Client satisfaction through participation in the negotiations process with big corporate clients, etc.
Jelena was VP of the Legal Committee in two convocations and now she has taken another step forward by taking the role of FIC Financial Service Committee Vice President, thus committing herself to active participation and organization of the Committee work.
Jelena has graduated at Faculty of Law at Belgrade University, passed the Bar Examination, and she has advanced knowledge of English and Russian.