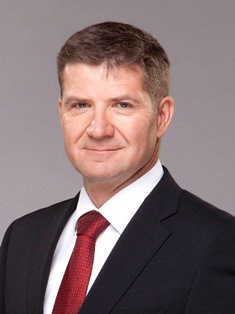 Dejan Turk
Vice President of the Board, FIC
CEO, A1 Srbija & A1 Slovenija
After graduating from the Vienna University of Economics and Business Administration in marketing and finances in 1995, Dejan Turk was employed by McDonald's Slovenia where he began his career as a restaurant manager and finished as the CEO of the chain of restaurants in Slovenia and Croatia.
He joined A1 TAG in August 2004, when he became the head of marketing and sales at Si.mobil. In August 2006 he was appointed Member of the Board responsible for market operations and from March 2007 to February 2014 he was the Chairman of the Management Board of Si.mobil. Dejan Turk took over position of CEO/CMO Vip mobile in March 2014. As of May 1, 2015 was appointed CEO/CMO of the new organizational unit "Serbia and Slovenia" within A1 Telekom Austria Group. As of July 1, 2016 he took over CEO position of Vip mobile and Si.mobil (current A1 Srbija and A1 Slovenia).
In addition, in 2014 he was elected the Member of the Supervisory Board of A1 Telekom Austria AG, and the member of the Management Board of the NLB Bank Belgrade. As of February 2015 he is also a Board member of Serbian association of managers. Dejan Turk is the winner of many prestigious awards for the 6-year successful management of Si.mobil (Excel 2009, Manager of the year 2009, Award for the Top Achievements in Slovenian Business and Economy for 2013). He was also a President of the Managers' Association of Slovenia and Chairman of UNICEF Foundation in Slovenia. In March 2015 Dejan was awarded the "Kapetan Miša Anastasijević" recognition for business excellence, leadership and corporate social responsibility.
In July 2015, Dejan Turk was elected President of the Forum for Responsible Business, a network of leading companies in Serbia that are dedicated to the development of socially responsible business in the business sector. Dejan Turk also won a prestigious AmCham award for Business Ambassador Leader of Change 2016. As of 2018 he is also a member of the Board of Directors of the Foreign Investors Council (FIC), and as October he was elected Vice President of the Board.