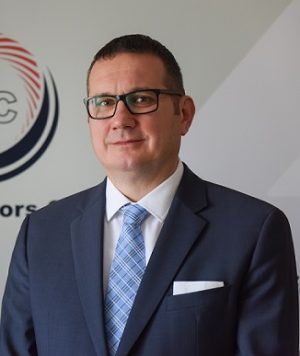 FIC Executive Director
Executive Director's key responsibilities include:FIC Executive Director is appointed by the Board of Directors to organize daily work of the Council, its bodies, committees and documentation, and is also entitled to legally represent FIC.
Implementing and reviewing existing FIC policies and assisting Board of Directors in design and execution of new policies and long range operating plans;
Coordinating execution of all FIC activities, including coordination and overseeing operations of FIC working committees, production and promotion of the White Book edition, organization of conferences and roundtables, formulation and implementation of specific advocacy initiatives;
Maintaining contacts with all relevant stakeholders, such as Government of Serbia, international organizations, diplomatic core, business associations and think tanks, in order to initiate discussions on relevant subjects and promote FIC principles and engagement;
Managing all administrative functions of the association, including HR, contract compliance, formulation and execution of annual operating budget, maintenance of records and commissions, etc.
Aleksandar Ljubic was appointed the FIC Executive Director in June 2019.
Aleksandar Ljubic is a senior business executive professional with experience in both public and private sector. He comes to FIC from the position of Associate Director in MD Solution Serbia, where he successfully completed various projects in Serbia and several countries across SEE with partners from all parts of the world. Before that he served as the State Secretary in the Ministry of Finance and Economy, and at the several senior positions in the Privatization Agency. He has Master of Science Degree from the Faculty of Mechanical Engineering, University of Belgrade and has an excellent knowledge of English.