Tuesday-Wednesday, 28-29th November 2023, Metropol Palace Hotel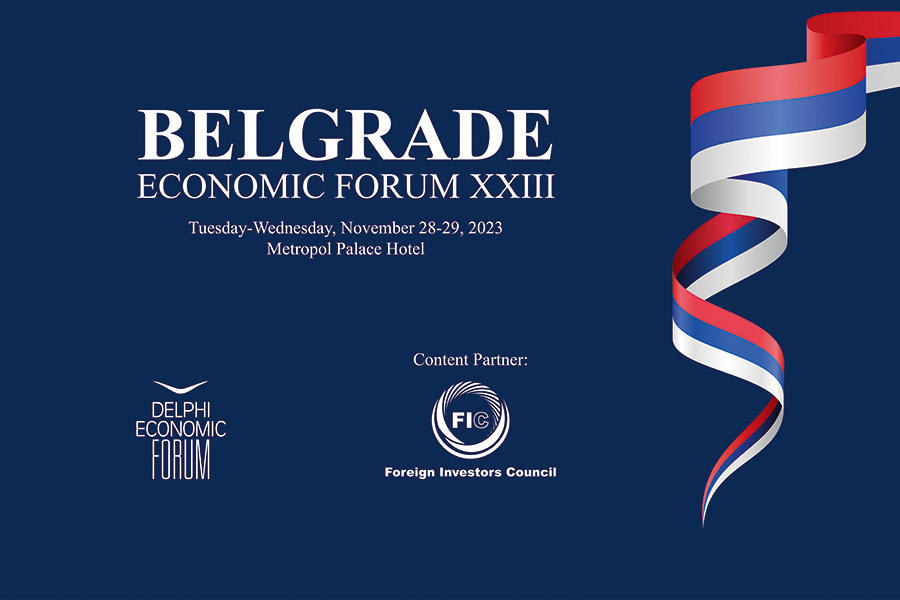 TGI Group International in cooperation with Delphi Economic Forum organizes 23rd Belgrade Economic Forum, which will be held on Tuesday-Wednesday, 28-29th November 2023 at the Metropol Palace Belgrade.
TOPICS: 
THE WAR CONTINUES: IMPLICATIONS FOR THE REGION
20 YEARS FROM THE THESSALONIKI DECLARATION ON WESTERN BALKANS – WHERE WE GO FROM HERE
SUSTAINABLE REGIONAL DEVELOPMENT
NEXT BIG THING IN IT SECTOR GROWTH
REGIONAL ECONOMIC COOPERATION
STRATEGIES TO MAINTAIN AND DEVELOP ECONOMIC GROWTH IN TIMES OF UNCERTAINTY
ESG CHALLENGES FOR SUSTAINABLE FINANCE
WASTE MANAGEMENT – Content Partner: FIC
ENERGY TRANSITION – CLIMATE CRISIS: THE NEXT STEPS
TOURISM AND CULTURAL PILLARS OF LOCAL DEVELOPMENT
SPORTS FINANCING
PARTICIPANTS:
More than 60 speakers and more than 250 participants including senior officials, businesspeople, diplomats, scholars, experts and media.
Corporate professionals in Serbia that fulfil several criteria: long-term experience in corporate work, the position of decision maker, education, international aspect of doing business, level of knowledge of the English language, knowledge and relations with the regulatory sphere.
Forum is an annual review of Serbia's political, economic, and business developments, providing an in-depth analysis of the country's role within the Region and an excellent platform for communication among political, economic as well as business leaders and scholars in the Region of Southeast Europe
Members of the Foreign Investors Council in Serbia will receive an 25% discount on the participation fee.
 To learn more about the 23rd Belgrade Economic Forum, visit Homepage | Belgrade Economic Forum 2022 (economicsummit.rs) or contact the organizer: TGI Group International, Tel: +381 11 3032 235-7, email: kristina.rajic@tsomokos.rs.
23rd Belgrade Economic Forum_Draft Agenda as of November 22, 2023