Monday-Tuesday, 4-5th October 2021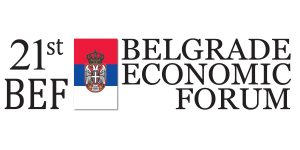 TGI Group International in cooperation with Delphi Economic Forum organizes 21st Belgrade Economic Forum, which will be held on Monday-Tuesday, 4-5th October 2021 at the Metropol Palace Belgrade.
Topics:
POWER SHIFTS IN SOUTHERN EUROPE
EU NEIGHBOURHOOD POLICY: LATEST REPORT
SERBIAN GOVERNMENT NEW REFORMS PROGRAMME 2021-2023
BUILDING SERBIA'S ENERGY ARSENAL
POLITICAL AND ECONOMIC COOPERATION IN THE REGION
SERBIA'S ECONOMIC OUTLOOK POST PANDEMIC
BIG BANK THEORY: LEADING THE SERBIAN ECONOMY AND BANKING THROUGH THE STRAITS OF THE PANDEMIC
HOW TO RE-SPARK FOREIGN DIRECT INVESTMENT
FINANCING: THE MAJOR INFRASTRUCTURE PROJECTS
CLIMATE CHANGE AND NATURAL DISASTERS. TRANSFORMATION POLICIES FOR A SUSTAINABLE FUTURE
RISING STARS: ΤHE NEXT SUCCESS STORIES OF THE SERBIAN TECH
Participants:
More than 60 speakers and more than 250 participants including senior officials, businesspeople, diplomats, scholars, experts and media.
WHY ATTEND AND/OR PARTICIPATE?
Forum is an annual review of Serbia's political, economic, and business developments, providing an in-depth analysis of the country's role within the Region and an excellent platform for communication among political, economic as well as business leaders and scholars in the Region of Southeast Europe
To learn more about the 21st BEF, visit https://www.economicsummit.rs/or contact the organizer: TGI Group International, Tel.: +381 11 303 2235-7, Cell: +381 65 3032236; email: kontakt@tsomokos.rs.
21st Belgrade Economic Forum- Draft Conference Program Sept 28