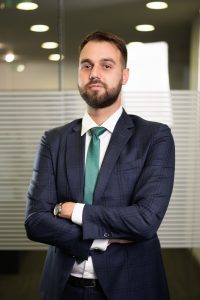 Marko Ćulafić is an Independent Attorney at Law practicing in cooperation with Karanovic & Partners. He is a senior member of the Corporate & Commercial Practice Group. His expertise includes advice on all corporate and commercial law aspects, specializing in mergers and acquisitions, corporate restructurings, corporate governance, and joint ventures.
Marko graduated from the University of Belgrade, Faculty of Law in 2015, after which he started his legal career in 2016 at Karanovic & Partners, building up his experience through advising on some of the largest and most successful transactions in the region.
His client list includes international banks, leading IT companies, manufacturing companies, private equities, multinational food industry companies, real estate developers, and many more.
Marko has abundant experience and practical knowledge in helping investors achieve their business goals by utilizing state incentives and providing full service regarding incorporating a company and starting business operations in Serbia. He is especially committed to advising foreign investors in Serbia and helping them navigate the legal landscape. Marko is a registered attorney at the Belgrade Bar Association and member of the International Bar Association (IBA).