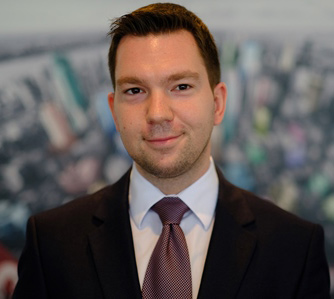 Igor Živkovski has been practicing law since 2010 and was an associate at Karanović & Nikolić Law Firm in Belgrade and an intern at the United Nations International Criminal Tribunal for the former Yugoslavia in The Hague. He is Partner at Živković Samardžić Law Office, one of the Serbia's leading full-service independent law firms, and also serves as President of Legal Committee of the Foreign Investors Council (FIC) and lecturer at the Academy of Legal Profession of the Bar Association of Serbia.
He advises clients in the following areas:
– Corporate and M&A;
– Commercial;
– Tax;
– Competition.
List of Igor's clients includes market leaders from the food and beverage industry, technology, media and telecommunications, banking, pharmaceuticals and construction sector, most of which are members of the FIC.
He graduated as the first graduated student of the generation at the University of Belgrade Faculty of Law in June 2010, completed LL.M. (in 2012) and specialized studies in tax advisory with distinction (in 2012) at his alma mater. He gained theoretical knowledge at various seminars, conferences and research visits held in the United Kingdom, Netherlands, Belgium, Hungary and Romania. Also, Igor is the author and co-author of numerous articles published in prestigious scientific journals as well as a lecturer on a variety of seminars, conferences and workshops on topics related to his area of expertise.
Igor is a member of the Belgrade and Serbian Bar Association, Business Lawyers Association of Serbia and is an active member of the FIC's Legal Committee, where he continuously participates in drafting the Introduction to the Legal Framework, Law on Business Companies, Law on the Central Register of Temporary Restriction of Rights and Law on the Central Register of Beneficial Owners sections of the White Book.